At 11pm… hurricane Irma was centered near latitude 17.2 north… longitude 51.0 west… or around 710 miles east of the Leeward Islands. Irma is currently tracking WSW around 14 mph. The storm appears to be on the uptick over the past few hours… with the satellite structure appearing improved. The core convection around the center looks better organized… the upper level outflow is very well established… and the eye is organized and around 25 miles wide.
Maximum sustained winds are around 115 mph… which makes the storm a category 3 on the Saffir Simpson hurricane wind scale. The pressure record by a hurricane hunter aircraft investigating the system is 961 mb.
A west-southwest to west motion is expected through Monday night… and some strengthening is forecast over the next 48 hours.
Hurricane watches are in effect for portions of the northern Leeward Islands… and Irma could bring dangerous wind… rainfall… seas and storm surge to these communities Tuesday night and Wednesday… then moving near the British and US Virgin Islands. Wednesday night it should move north of Puerto Rico… Thursday north of the Dominican Republic and Haiti. Friday it will likely move across the Bahamas.
Here is the 11pm Sunday Night forecast track from the National Hurricane Center…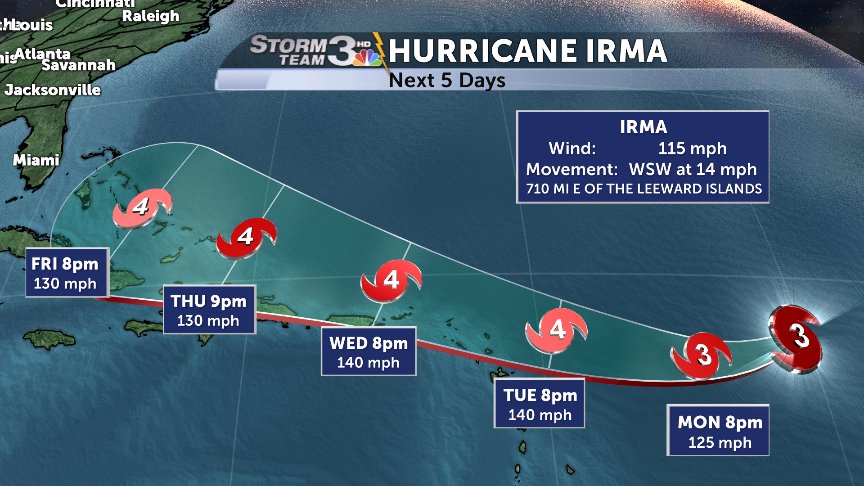 The long term (day 6-8) is still quite uncertain and one of three scenarios could unfold.
The storm turns very quickly north thanks to an amplifying upper level jet/trough over the east… and Irma gets uncomfortably close… but doesn't make a direct hit on the southeast coast of the United States. These could still be some threat to portions of the North Carolina / Mid Atlantic states in the scenario.
A slower turn to the north/northwest… and a possible hit along the Georgia or South Carolina coast.
Irma doesn't get picked up and turned north at all… missing the connection to the upper trough/jet… making landfall possibly in Florida and possibly moving as far west as the eastern Gulf of Mexico.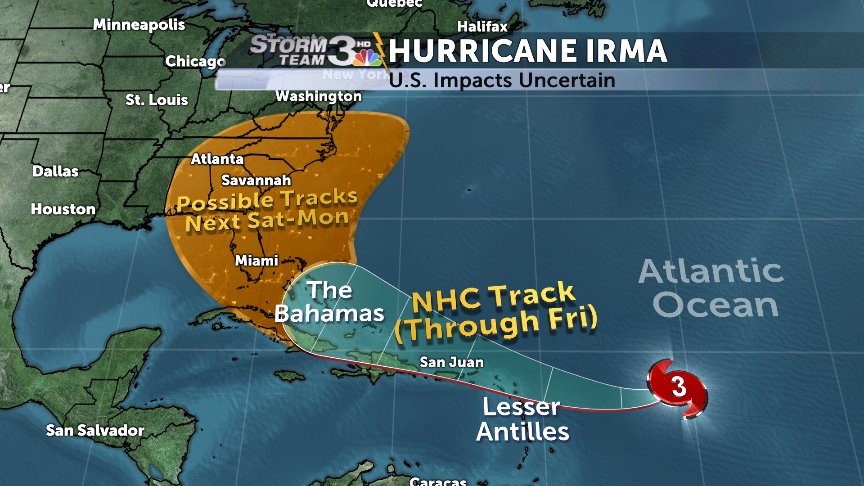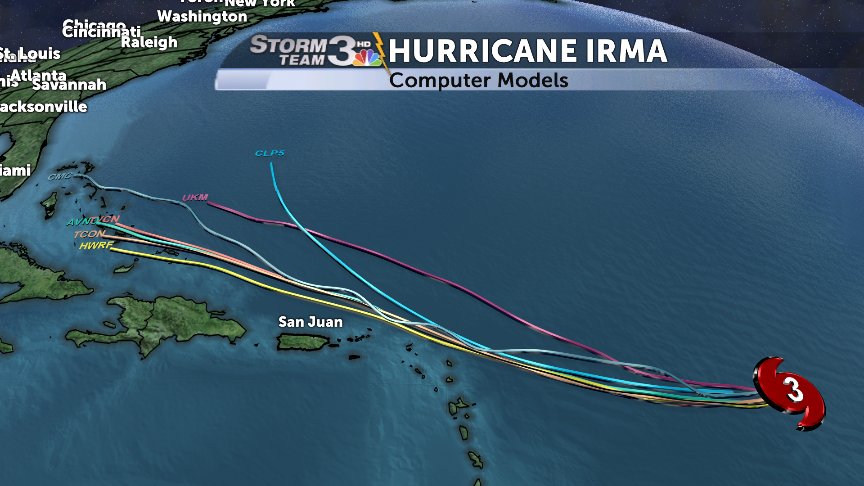 Have a hurricane plan and know what you would do in case Irma eventually does impact our area.
Stay tuned to Storm Team 3… WSAV and WSAV.com for the very latest.