At 11pm… hurricane Irma was centered near latitude 18.3 north… longitude 46.2 west… or around 1030 miles east of the Leeward Islands. There has been little change in the organization or structure of the storm today.Maximum sustained winds are around 110 mph… just shy of major hurricane strength (category 3). Present movement is west around 14 mph and the lowest pressure in the center is 973 mb.
There are no current watches or warnings… however interests in the Leeward Islands are being asked to very closely monitor the storm… and all interests in the Bahamas and the east coast of the United States should monitor as well.
Irma is expected to move just south of due west for the next 48 hours… followed by a more west-northwest track on the southwest edge of Atlantic high pressure to the north. Some strengthening is forecast during the next 5 days… and Irma is forecast to regain category 3 strength and potentially reach category 4 strength next week.
Here is the 11pm Saturday Night forecast track from the National Hurricane Center…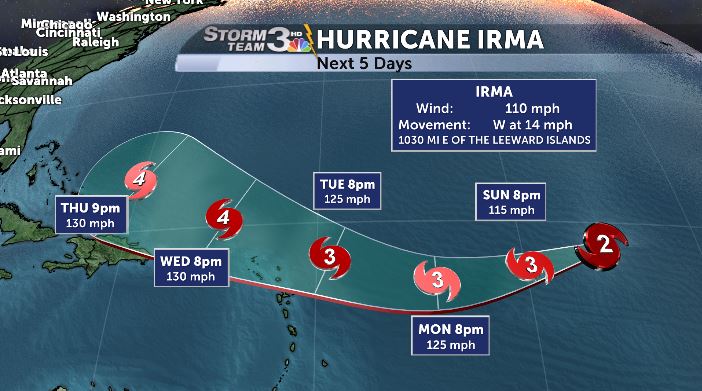 The long term (day 6-8) is very uncertain and one of three scenarios could unfold.
The storm turns quickly north and doesn't effect the east coast of the United States at all… being picked up the an upper level trough/jet stream and pushing it north and keeping it at sea.
A slower northward turn… and a possible hit along the mid atlantic or northeast United States.
Irma doesn't get picked up by the upper trough/jet stream to the north and continues WNW with a possible southeast strike.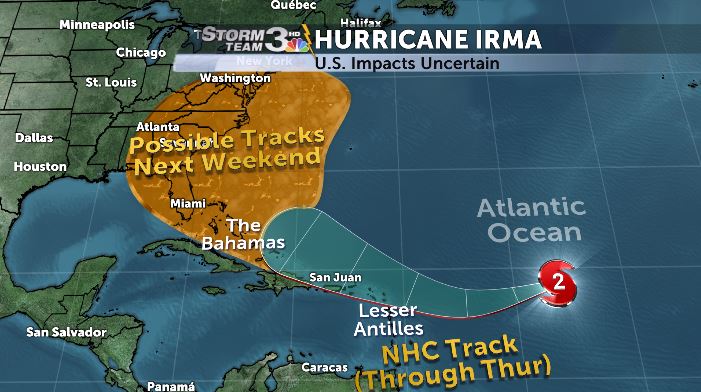 Stay tuned to Storm Team 3… WSAV and WSAV.com for the very latest.