GUSTY WINDS… ROUGH SURF AND PERIODIC HEAVY SHOWERS ALONG THE COAST THROUGH MONDAY EVENING

We are tracking an elongated area of low pressure about 95 miles southeast of the Savannah, Georgia coast. The system is becoming better organized… and is likely to become a tropical depression or storm overnight or Monday morning while moving northeast. Look for continued rough surf… gusty winds and occasional downpours along the coast through Monday evening before the system moves away from our area. The chance of tropical cyclone development is 90%. WSAV and Storm Team 3 will continue to provide updates on this system.
Here is the forecast track of the disturbance… forecast to become a tropical storm.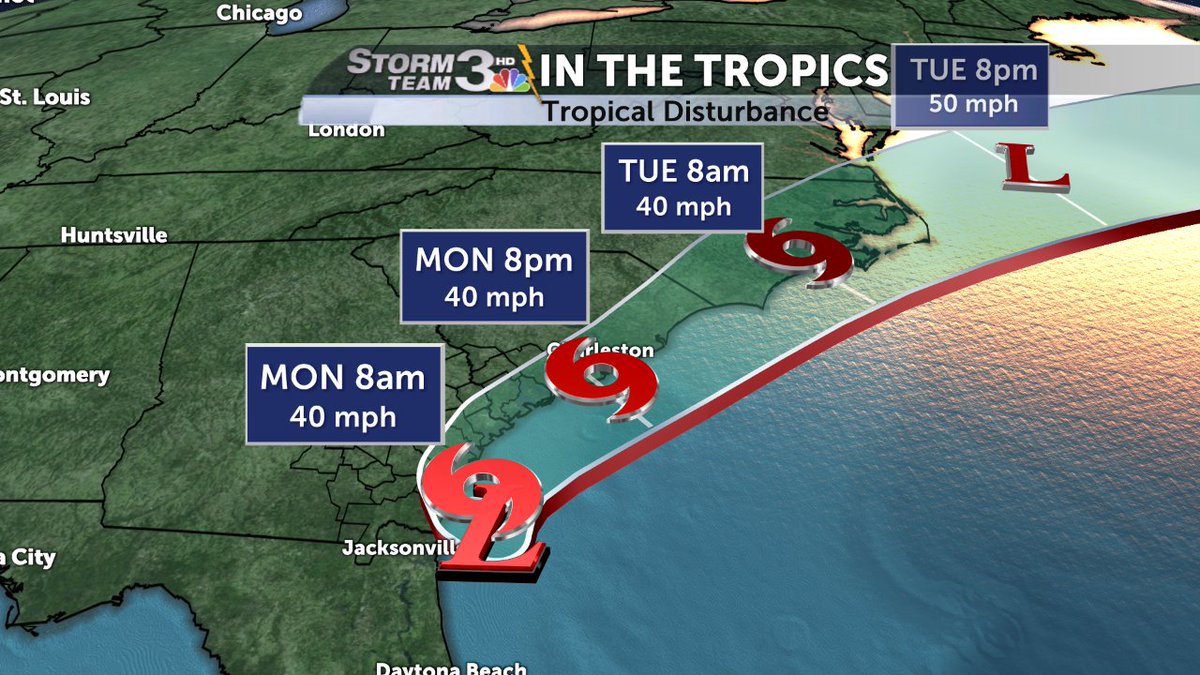 A Gale warning is in effect for all coastal waters. Boating should be avoided. See graphic below.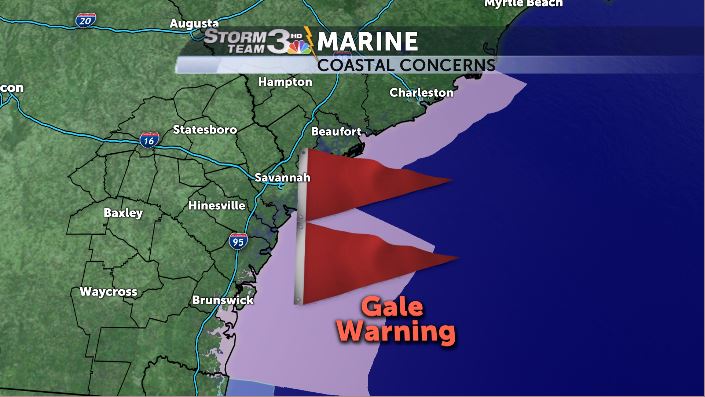 ***A WIND ADVISORY is in effect for coastal land areas… mainly near and east of highway 17 to the coast. Northeast winds of 25-30 mph with gusts to 40-45 mph possible. Strong winds will make travel difficult… especially for high profile vehicles and on elevated surfaces such as bridges and overpasses. Lightweight objects such as trash cans and lawn furniture will also be blown around.***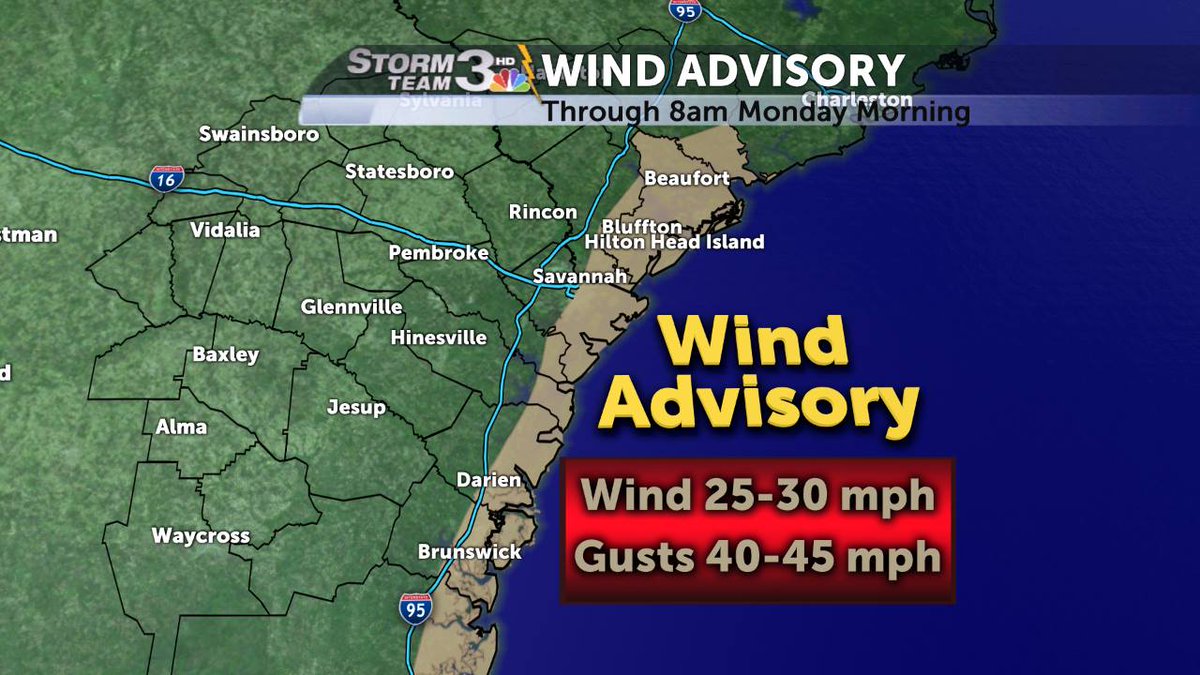 TONIGHT: Mostly cloudy and breezy (windy on the coast) with scattered showers… highest chances closer to the coast. Low near 70. Winds northeast at 15-20 mph with occasional gusts to 25 mph inland. On the coast… northeast winds 25 to 30 mph with gusts to 40-45 mph possible.
MONDAY: Cloudy and breezy (windy on the coast) with scattered showers and isolated thunderstorms likely. Cooler than normal for late August with a high around or a little over 80. Winds northeast becoming north at 15 to 25 mph with occasional gusts to 30 mph. Gusts stronger on the immediate coast. Heavy surf and dangerous water conditions again on the coast with a moderate to high risk of rip currents.
MONDAY NIGHT: The system will slowly pull away and to the north… bringing cloudy skies with a chance of showers and thunderstorms… mainly during the evening. Low around 70.
TUESDAY: Mostly cloudy and a little warmer with isolated showers or thunderstorms. High in the mid 80s.
WEDNESDAY: Partly sunny with hit or miss showers and thunderstorms. Highs return to near seasonable… in the upper 80s.
THURSDAY and FRIDAY: Widely scattered to scattered showers and thunderstorms to round out the week. High in the upper 80s to near 90.
HARVEY UPDATE: Harvey is a tropical storm with max sustained winds of 40 mph. The center of the storm is around 10 miles NE of Victoria, TX. Harvey is producing unprecedented flooding over portions of southeast Texas. Residents there are being told not attempt to travel if they are in a safe place. Harvey is expected to produce an additional 15 to 25 inches along the middle and upper Texas coast. Isolated storm totals may reach 50 inches in this region.