At 8 pm… the eye of dangerous hurricane Matthew was about 120 miles south of Tiburon, Haiti… at latitude 16.6 north, longitude 74.6 west with maximum sustained winds of 140 mph.
Matthew is now moving toward the north/northeast near 8 mph… but a turn back to the north is expected later tonight through Tuesday night with a motion at a faster forward speed. A turn toward the north-northwest is forecast on Wednesday.
On the forecast track… the center of Matthew will approach southwestern Haiti tonight… move near eastern Cuba late Tuesday and move near or over parts of the southeastern and central Bahamas Tuesday night and Wednesday.
A hurricane warning is in effect for Haiti… portions of eastern Cuba… and the southeast and central Bahamas.
Life-threatening rain… wind and storm surge expected in parts of Haiti tonight.
Portions of southern Haiti could pick up isolated storm totals of  rainfall as high as 40 inches.
Hurricane-force winds extend outward up to 40 miles from the center and tropical storm force winds extend outward up to 185 miles.
By the time it is offshore the Georgia/South Carolina coast… it will likely be a Category 2 or 3 storm. The question is how close to our coast will Matthew track?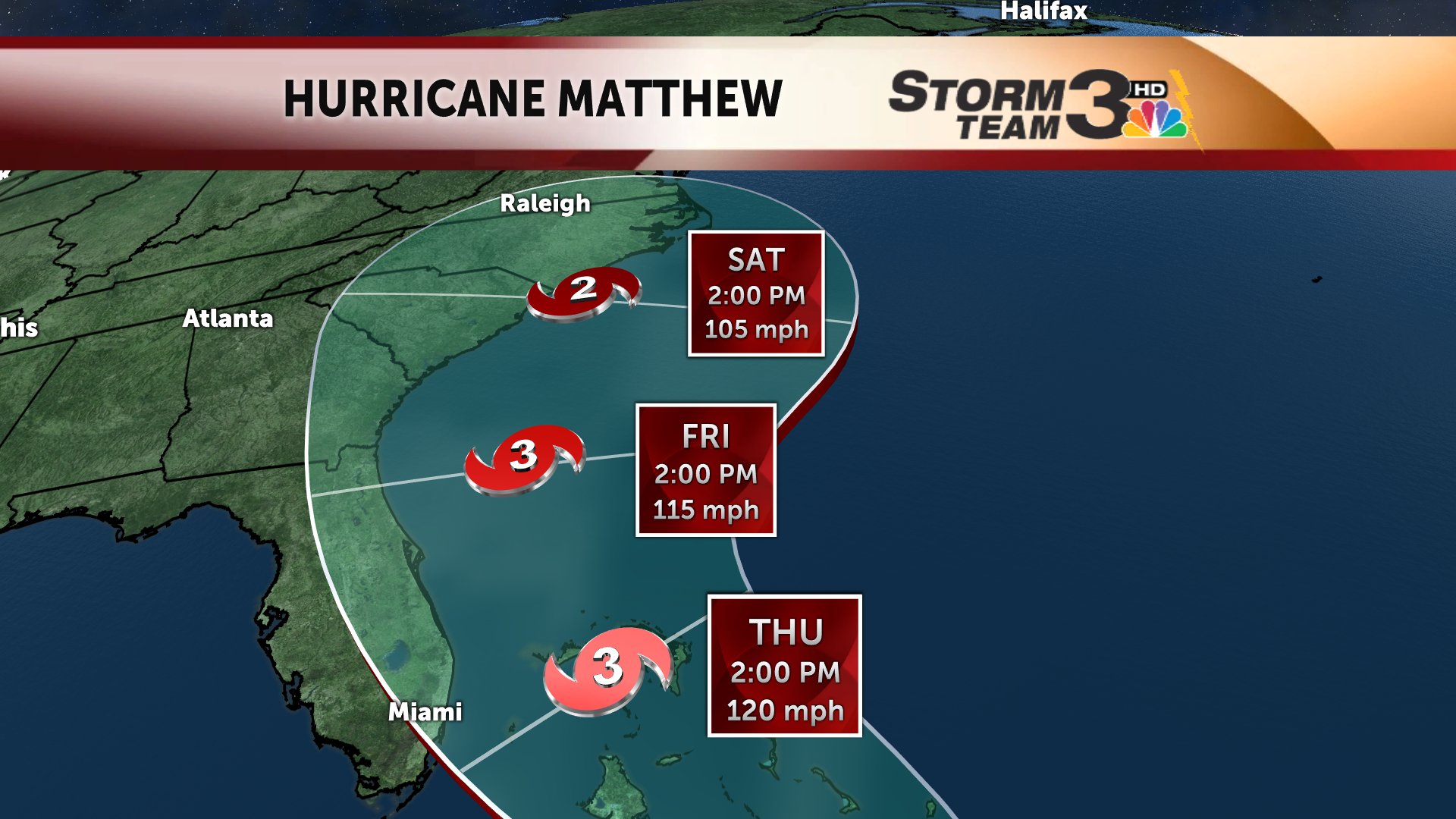 A farther west track would bring greater impacts… while a farther east track would bring fewer impacts.
The track has shifted a bit west tonight… and at the very least… we should expect some impacts including rough surf… rip currents… beach erosion… and at least some rain and wind along the coast.
Those impacts could begin as early as Wednesday night and continue on Saturday before Matthew exits to our north and east.
Stay with Storm Team 3 as we continue to track Matthew, and be sure to download the WSAV weather app.