Hurricane Matthew has finally made the turn to the north… while continuing to churn in the central Caribbean Sea.
As of 11 pm… Matthew was 255 miles south/southeast of Kingston in Jamaica with maximum sustained winds remaining around 145 mph.
A general north motion is expected through Monday. On the forecast track… the center of Matthew will approach southwestern Haiti and Jamaica Monday into Tuesday.
At this hour… a hurricane warning is in effect for Jamaica… Haiti… portions of eastern Cuba… and the southeastern Bahamas.
The storm is expected to bring powerful winds and incredible amounts of rain to portions of Haiti and Cuba… with Jamaica in its grips as well. In Haiti… rainfall amounts could reach as high as 15 to 25 inches… with isolated totals possibly up to 40 inches.
In addition to the heavy rain… storm surge could reach as high as 7 to 11 feet in southern Cuba and Haiti. Over the central and southeast Bahamas… storm surge could reach as high as 10 to 15 feet.
Some fluctuations in intensity are possible during the next couple of days… but Matthew is expected to remain a powerful hurricane into Tuesday.
After the storm moves north of the Bahamas, the future path and strength of Matthew becomes quite uncertain.
The cone of uncertainty gets even larger as we get into late next week. Here is a look at some of the different forecast models and their tracks.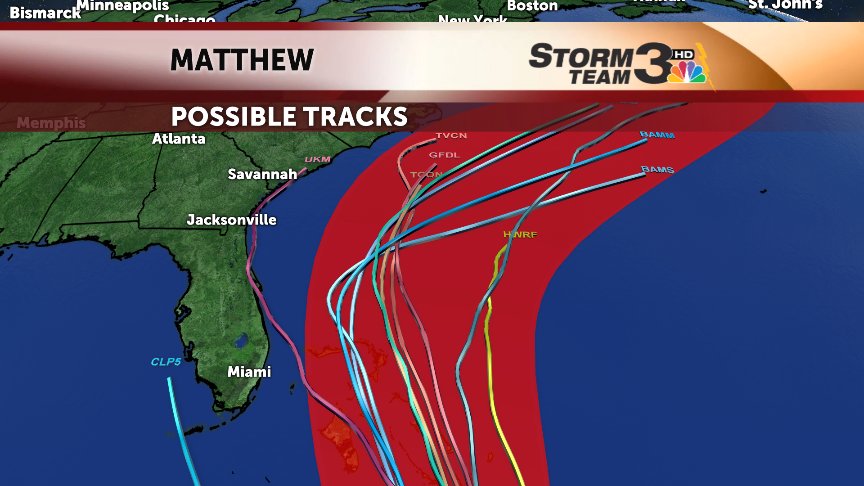 Even if the storm stays in the Atlantic ocean the Coastal Empire and Lowcountry could see a few impacts. Local Impacts mid to late next week include:
Large swell and dangerous/high surf
Deadly rip currents
Beach erosion
Gusty coastal winds
Stay tuned to WSAV… wsav.com and Storm Team 3 for the latest updates on Matthew.